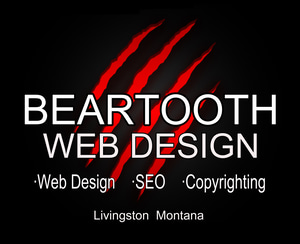 We host our websites with Squarespace. We chose Squarespace because it is one of the most reliable solutions in the world. Also, it is easy to increase your site's capacity as your website starts to get more traffic.
TERMS OF AGREEMENT
These terms are subject to change. AGREEMENT BETWEEN BEARTOOTH WEB DESIGN LLC (hereinafter referred to as "BWD") and Account Holder (hereinafter referred to as "User"). BWD and User agree as follows:
1. HOSTING
BWD agrees to provide User with storage space, CPU usage, and necessary bandwidth on the BWD server for the purpose of hosting a world-wide-web site (the "Site") in the amount prescribed in the agreement between BWD and the User. If the User's account exceeds any terms set forth in the agreement, new and reasonable terms will be negotiated by the User and BWD.
Payment for hosting services provided by BWD can be paid by the User at least three (3) months in advance or monthly if an automatic recurring credit card payment has been set up.
The User is expected to pay for hosting services on time. In the event payment is not received, or arrangements made, BWD reserves the right to discontinue hosting services until the account is made current.
In order to host a domain name registered by the User, BWD must be listed as the administrative contact with the appropriate registrar.
The hosting agreement between BWD and the User contains no guarantee, (n)either explicit or implied, of server uptime. BWD will make every effort to maintain the server in such a way as to minimize all downtime; however, BWD cannot be held liable for any damages or losses incurred by the User in the event of server downtime.
2. DOMAIN REGISTRATION
In the event that BWD registers a domain name for the User, the User will be the owner of the domain name and will be responsible for its lease. All applicable renewal fees are the responsibility of the User.
In the event the User terminates their business relationship with BWD, BWD will assist the User in updating their record with the appropriate registrar to remove BWD as the administrative contact. If other services are rendered to help the User migrate their site to a new location, the time spent by BWD can be billed to the User.
3. DATA BACK-UP
BWD will periodically backup the content stored on the BWD server(s) for the purposes of preventing data loss in the event of server failure; however, BWD will not be held liable for missing or lost data. It is the responsibility of the client to ensure they maintain backups of their data (including website files, logs, database files, etc.).
4. OTHER LIMITATIONS
Services rendered by BWD are subject to the following limitations:
CPU Resources
User acknowledges the service is provided on a shared server and agrees not to engage in any activity that overwhelms the server with heavy CPU usage or requires a disproportionate amount of the resources of the BWD server, including without limitation, use of highly active CGI scripts or chat scripts. If the CPU usage for the User's account becomes considerate, as determined by BWD, the user will be informed that the rates for the services provided might be increased.
File Types
BWD reserves the right to restrict file types stored on its server, including, but not limited to: MP3, Mpeg, AVI, Real Audio, Real Video, QuickTime, Windows Media, etc. Users also shall not host executable binaries and/or compressed file types including, but not limited to: .EXE, .ZIP, .TAR, .RAR and .GZIP.
Content
User shall not include content, or Internet links to content on the Site that contains, promote or involve any of the following: any infringement of copyright, trademark, patent, trade secret or other intellectual property rights; nudity or pornography; content that exploits children under 18 years of age; hate propaganda; racist, threatening or otherwise abusive content; the promotion or incitement of, or instruction for, the commission of illegal activities; mail fraud, multi-level marketing (pyramid) schemes or any other fraudulent activities; content promoted through the sending of unsolicited e-mail (also known as spamming); sending of unsolicited e-mail (spam) from the BWD server or any other server that refers to content on the BWD server or sending such e-mail with an BWD's hosted Web site listed as the contact address; warez, cracks, hacks, spam software and their associated utilities. The user agrees that BWD is not responsible for content on pages hosted on the User's site and acknowledges BWD does not endorse or verify any such material.
E-mail
The User is solely responsible for the content of their e-mail messages. User is not permitted to transmit messages on the e-mail service that (a) infringe on any third party's intellectual property or proprietary rights, or rights of publicity or privacy; (b) violate any law, statute, ordinance or regulation; (c) is defamatory, trade libelous, threatening, abusive or obscene in the opinion of BWD; (d) contain viruses or other similar harmful or deleterious programming routines.
Account Size
All of the User's e-mail accounts will have specified storage limits. If the User's storage capacity is met and the user does not delete e-mail box contents to reduce e-mail box size, then any further e-mails sent to User that result in User's e-mail box exceeding maximum capacity might be returned to sender without notice to User. Spamming is prohibited. Spamming generally includes sending any form of an e-mail that can be interpreted as junk or bulk e-mails the recipient has not specifically requested from User
Privacy of User's Mailbox
BWD considers User's registration data and the content of all User's messages to be private. BWD will not intentionally monitor or disclose any of User's e-mail messages or registration data unless BWD believes in good faith that it is required to do so (i) to enforce these Terms of Service, (ii) by law, (iii) to defend BWD in any action or (iv) to protect BWD property. Additionally, Users must agree to respect the privacy and confidentiality of others. The user agrees to be fully liable for the use of the User's mailbox, including any unauthorized use of mailbox by a third party. The user agrees to notify BWD immediately if the User becomes aware of any unauthorized use of mailbox.
E-mail Retention
Users must remember to check their mailbox for messages frequently. All e-mails the User receives in their mailbox that is not opened for more than 180 days might be deleted and unrecoverable. BWD will not be held liable for loss of messages stored or transmitted using BWD e-mail services. Data might be recovered if requested by the user, and the user will be subject to a reasonable fee for this service.
No Representations or Warranties
The Service is offered on an "as is" basis without any representations or warranties of any kind either expressed or implied. BWD makes no representations, warranties, or guarantees of any kind, whether written or verbal, regarding the reliability of the Site provided or any other services offered. BWD is not responsible for any deletion, alteration, or loss of data due to network or system outages, file corruption, accidental deletion, or any other reasons. BWD makes no representations, warranties or guarantees with regards to server reliability, speed, or consistency. BWD makes no representations, warranties or guarantees as to the accurateness or correctness of any content on any of the Sites and is not responsible for any errors or omissions arising from the use of such information. BWD expressly disclaims all warranties of any kind, whether express or implied, including, but not limited to: the implied warranties of merchantability, fitness for a particular purpose and non-infringement.
BWD makes no warranty the e-mail services will meet User's requirements, or the e-mail services will be uninterrupted, timely, secure or error-free; nor does BWD make any warranty as to the results that might be obtained through the e-mail service or that defects in the software will be corrected. User understands and agrees any material and/or data downloaded or otherwise obtained through the use of the e-mail service is done at their own discretion and risk, and User will be solely responsible for any damage to their computer systems or loss of data resulting from the download of such material and/or data. BWD makes no warranty regarding any goods or services purchased or obtained through the e-mail service or any transactions entered into through the e-mail service, and no advice or information, whether oral or written, which User obtains from BWD or through the e-mail services shall create any warranty not expressly made herein
Limitation of Liability
BWD is not responsible for any failures, delays or interruptions in the delivery of any content or services contained on the BWD server. BWD is not responsible for losses or damages arising from the use of the content or services provided by BWD. BWD's liability to User for actual damages for any cause whatsoever, regardless of the form of action, will be limited to a maximum of the fees paid by User to BWD in the past 12 months. In no event will BWD be liable to User for any indirect, incidental or consequential damages arising out of the service or in connection with the Site or any other services or products provided to User.
Indemnity
User agrees to indemnify BWD from and against any and all losses, damages, liabilities, claims, judgments, settlements, fines, costs and expenses (including reasonable related expenses, legal fees and costs of investigation) or every nature whatsoever incurred by BWD by reason of or arising out of or in connection with (i) any breach of this Agreement by User; (ii) any infringement of any copyright, trademark, patent, trade secret or any other intellectual proprietary right of any party by content on the Site; or (iv) illegal, libelous or defamatory content on the Site. The user will also reimburse BWD for any expenses that might occur due to the aforementioned.
Termination
Either BWD or User may terminate this Agreement at any time upon providing five business days' notice to the other party. Cancellation requests may be made in writing, including e-mail.
Right to Refuse Service
BWD reserves the right to refuse services to any User, including in the event User does not abide by the provisions set out in this Agreement.
Agreement
Payment of the User's hosting or development fees will be construed as an acknowledgment and agreement to the above-mentioned Terms of Agreement.

Last Updated: June 11th, 2020