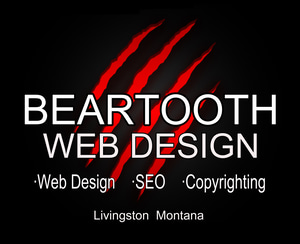 TERMS OF USE & PRIVACY POLICY

The following terms and conditions and privacy policy (collectively, the "Terms") constitute an agreement for the use of the website www.beartoothwebdesign.com (the "Website"). By accessing or otherwise using this Website, you agree to be bound contractually by these Terms. Your affirmative act of using this Website and/or registering with the Website constitutes your electronic signature to these Terms.
1 - Parties.
The parties to these Terms are you, and the owner and operator of this Website: [***Michael E. Histed***], a Montana LLC Business ("Beartooth Web Design LLC"). All references to "studio", "web designer", "we", "us", or "this Website" shall be construed to mean Beartooth Web Design LLC.
2 - Modification of Terms.
We reserve the right to modify these Terms at any time, and without prior notice, by posting amended Terms that are always accessible through the "Website Terms and Conditions" link on this Website's home page.
Your continued use of this Website indicates your acceptance of the amended Terms. You should check these Terms through this link periodically for modifications. We may also, from time to time, issue additional guidelines and rules with respect to using our Website. We will notify you on the Website when we issue any such additional information. By using our Website, you agree that you will comply with any such additional guidelines and rules.
3 - License.
Beartooth Web Design LLC grants you a limited, non-exclusive, non-transferable, and revocable license to access and use the Website for your own business purposes, subject to the restrictions set forth in paragraph 4 below. This license terminates automatically if you breach these Terms.
4 - Prohibited Activities.
You do not have the right to modify this Website, its content, or any copyright or other proprietary notices. Unauthorized use of this Website or any content may violate copyright laws, trademark laws, the laws of privacy and publicity, and communications regulations and statutes.
You may not copy, distribute, transfer, or transmit this Website or its content in any form without Beartooth Web Design LLC's prior written permission.
Further, the following activities are also expressly prohibited without Beartooth Web Design LLC's prior written permission:
(i) use of any robot, spider, other automatic device, or manual process to monitor or copy this Website or any of its content;
(ii) attempting to gain unauthorized access to any of our services, user accounts, computer systems or networks through hacking, password mining or other means;
(iii) copying, duplicating, "mirroring" this Website in whole or in part or any content on any other server;
(iv) reverse engineering, attempting to derive source code from, or translating for commercial purposes any part of the Website;
(v) misusing the Website, creating fraudulent member accounts, or collecting or storing personal information about other users;
(vi) any action that imposes an unreasonable or disproportionately large load on this Website or otherwise interferes with its functioning; and
(vii) any other action that may reasonably and adversely jeopardize Beartooth Web Design LLC's services or reputation.
5 - Posting To Public Areas of This Website.
We may from time to time create areas of this Website that can be edited and viewed by others (for example, a forum or gallery). We will not treat information that you post to such public areas of this Website as confidential or proprietary. By posting information to public areas of this Website, you agree that we may use that information without any restrictions. However, you shall be solely responsible for any such information, material or content, whether created by or for you, and the consequences of posting or publishing it on the Website. You may not post any infringing, threatening, defamatory, sexually graphic, inflammatory, profane, or other inappropriate material. We have no obligation to monitor posts to this Website; however, we reserve the right to review such posts and to remove any material that, in our sole judgment, is not appropriate.
6 - No Guaranty or Endorsement.
Unless expressly stated by us to the contrary in writing, we do not make any representations or warranties with regard to any persons, entities, organizations, or companies that we may list or mention on this Website, or any products sold or promoted by such persons, entities, organizations, or companies.
7 - Collection of Personally Identifiable Information (hereinafter referred to as "PII").
When a person subscribes to our newsletters, news updates and information, submits a request for contact, or registers for an event, we may collect certain categories of personally identifiable information.
For example, we may collect the following categories of PII:
(i) contact information, such as your name, physical address, an email address, and phone number;
(ii) demographic information, such as your gender, date of birth and zip code; and
(iii) any information you voluntarily provide to us when you choose to use some of this Website's interactive tools and services, when available.
We reserve the right to store or archive your PII indefinitely, even after deletion or inactivation of your account. You understand that even if you request that we remove all of your PII, it may be impossible for us to do so.
8 - Sharing of PII.
We do not rent, sell or share PII with you or nonaffiliated companies, except as otherwise set forth in these Terms. We may use your PII to
(i) send you news updates and information relating to our products or services.
(ii) contact you, if necessary, such as for purposes of reminding you of upcoming events.
(iii) customize your experience on this Website, our emails, or other communications.
(iv) register you for events; and
(v) run anonymous statistical analysis and research on use of our Website or services.
From time to time, individuals or companies under contract with Beartooth Web Design LLC may have access to limited company information in the course of the service they provide to Beartooth Web Design LLC, but those entities are not permitted to use or re-disclose that information for unauthorized purposes.
Unless prohibited by law, we may also use and share PII with any company that may be legally affiliated with us (such as, for example, any parent, subsidiary, or brother or sister entity) for purposes of providing service and account maintenance, to help us design and improve products and services, and to offer products and services that may be of interest to you. Further, if we buy or sell a business, databases containing PII will likely be transferred as part of the sale. In that event, we will use reasonable efforts to notify you before information about you is transferred to another party. We reserve the right to share PII with third parties in response to a subpoena, to prevent fraud, to comply with an inquiry by a government agency or other regulator, or as necessary for other legal purposes.
9 - Cookies.
This Website, like many web sites, uses "cookies" (information stored on your computer by your browser at our request). Cookies enable the Website to "remember" who you are so that you can get around it easier and more efficiently. You may choose to disable cookies at your option and sole expense. By disabling cookies, you may not have access to the entire set of features on this Website.
We reserve the right to use cookies to collect demographic and profile data for purposes of improving the content of this Website. We do not record personal or sensitive information in our cookies. Advertisers that may display ads on our Website, if at all, may also use cookies; however we do not have access to the information obtained from cookies issued from other sites.
10 - Traffic Data.
We reserve the right, but not the obligation, to monitor your access and use of this Website without notification to you. We reserve the right to collect and store indefinitely four types of traffic data (the "Traffic Data"): IP Addresses, Referrers, System Information and Web Beacons.
• IP addresses are used by your computer every time you are connected to the Internet. Your IP address is a number that is used by computers on the network to identify your computer.
• A Referrer is the information passed along by a web browser that references the Web URL you linked from.
• System Information includes time of access, the type of web browser being used, the operating system/platform, and CPU speed of your computer.
• Web Beacons allow us to collect anonymous, non-personal information about your use of our Website and your use of emails, special promotions or newsletters we send to you. Web Beacons are graphic image files embedded in a web page or email that provide a presence on the web page or email and send back to us information about your browser. The information collected through Web Beacons allows us to monitor the traffic on our Website and information regarding who opens emails from us and for what purpose.
We reserve the right to use this Traffic Data for purposes of identifying broad demographic trends and for improving the content of this Website. We will not use Traffic Data to attempt to identify your personal information, and you will not be personally identified with any Traffic Data.
11 - Ownership.
The material and content provided on this Website is protected by law, including, but not limited to, United States copyright law and international treaties. The copyright in the content of this Website is owned or licensed by Beartooth Web Design LLC.
Except for the limited rights granted above, all other rights are reserved. All trademarks are the property of their respective owners. You may not copy, modify, distribute, download, display, transfer, post, remove or attempt to do any of the foregoing with respect to any copyright, trademark or other intellectual property contained on this Website or on any other content associated with the services we provide.
12 - Access to Website.
We do not guarantee that you will be able to access or use the Website at times or locations of your choosing. We may perform updates or maintenance to the Website from time to time, and nothing herein shall in any way modify or limit our right to perform such maintenance and other services even if such services would temporarily restrict your access to the Website
13 - Links to This Website.
Beartooth Web Design LLC grants you a limited, revocable, and nonexclusive right to create a hyperlink to the home page of this Website so long as the link does not portray Beartooth Web Design LLC or its products or services in a false, misleading, derogatory, or offensive matter.
You may not use Beartooth Web Design LLC's logos or Beartooth Web Design LLC's name or trademarks, or any other proprietary graphic in the link without the prior written permission of Beartooth Web Design LLC.
14 - Links to Third Party Web Sites.
Beartooth Web Design LLC does not review or control third party websites that link to or from this Website, is not responsible for their content, and does not represent that their content is accurate or appropriate. Your use of such third party web sites is on your own initiative and at your own risk and may be subject to the other websites' terms of use and privacy practices.
15 - Accuracy of Information and Disclaimer of Warranty.
Beartooth Web Design LLC has made every effort to present the content on this Website accurately, but additions, deletions and changes may occur from time to time without notice to you. Unless expressly stated by us to the contrary in writing, products, services, and/or content on this Website are provided "as is", and neither Beartooth Website Design LLC nor its representatives make any representation or warranty whatsoever with respect to such products, services, and/or content.
Unless expressly stated by us to the contrary in writing, Beartooth Web Design LLC AND ITS REPRESENTATIVES SPECIFICALLY DISCLAIM, TO THE FULLEST EXTENT PERMITTED BY LAW, ANY AND ALL WARRANTIES, EXPRESS OR IMPLIED, RELATING TO THIS WEBSITE OR PRODUCTS AND/OR CONTENT LISTED ON THIS WEBSITE, INCLUDING BUT NOT LIMITED TO, IMPLIED WARRANTIES OF MERCHANDISE, COMPLETENESS, TIMELINESS, CORRECTNESS, NON-INFRINGEMENT, OR FITNESS FOR ANY PARTICULAR PURPOSE. Beartooth Web Design LLC ALSO DOES NOT IN ANY WAY REPRESENT OR WARRANT THAT THE WEBSITE WILL OPERATE ERROR-FREE, THAT LOSS OF DATA WILL NOT OCCUR.
16 - Limitation of Liability.
Under no circumstances will Beartooth Web Design LLC or its affiliates have any liability with respect to any claims or damages (whether direct or indirect, special, incidental, consequential or punitive) as a result of your access or use of (or inability to access or use) this Website or its content, even if they have been advised of the possibility of such damages. You access and use this Website at your own risk.
IN NO EVENT SHALL WE BE LIABLE TO YOU (OR TO ANY THIRD PARTY CLAIMING UNDER OR THROUGH YOU) FOR ANY INDIRECT, SPECIAL, INCIDENTAL, CONSEQUENTIAL OR EXEMPLARY DAMAGES ARISING FROM YOUR USE OF, OR INABILITY TO USE, THE WEBSITE. THESE EXCLUSIONS APPLY TO ANY CLAIMS FOR LOST PROFITS, LOST DATA, LOSS OF GOODWILL, WORK STOPPAGE, COMPUTER FAILURE OR MALFUNCTION, OR ANY OTHER COMMERCIAL DAMAGES OR LOSSES, EVEN IF WE KNEW OR SHOULD HAVE KNOWN OF THE POSSIBILITY OF SUCH DAMAGES. IN THOSE JURISDICTIONS THAT DO NOT ALLOW THE EXCLUSION OR THE LIMITATION OF LIABILITY FOR CONSEQUENTIAL OR INCIDENTAL DAMAGES, OUR LIABILITY SHALL BE LIMITED TO THE EXTENT PERMITTED BY LAW.
17 - Indemnification.
You hereby release, indemnify and hold Beartooth Web Design LLC and its employees, directors, agents, and affiliates (collectively, the "Beartooth Web Design LLC Indemnified Parties") harmless from, and agree that Beartooth Web Design LLC Indemnified Parties shall in no event be liable for any claims, losses, damages or liabilities relating to
(i) any inaccuracies, errors or omissions with respect to any information contained on the Website.
(ii) any use or access of this Website by you or any person utilizing your identifying or access information.
(iii) the violation of these Terms by you or any person utilizing your identifying or access information
(iv) your violation, alleged or actual, of any third party right, including without limitation any copyright, property, or privacy right
(v) any claim that any material or content you uploaded or e-mailed to Beartooth Web Design LLC or published on the Website caused damage to a third party
(vi) your gross negligence or willful malfeasance.
This indemnification obligation does not apply with respect to any claims, losses, damages or liabilities resulting from our own gross negligence or intentional misconduct. This indemnification obligation is in addition to other obligations set forth elsewhere in these Terms.
18 - California Residents.
IF YOU ARE A CALIFORNIA RESIDENT, YOU WAIVE YOUR RIGHTS WITH RESPECT TO CALIFORNIA CIVIL CODE SECTION 1542, WHICH SAYS "A GENERAL RELEASE DOES NOT EXTEND TO CLAIMS WHICH THE CREDITOR DOES NOT KNOW OR SUSPECT TO EXIST IN HIS FAVOR AT THE TIME OF EXECUTING THE RELEASE, WHICH, IF KNOWN BY HIM MUST HAVE MATERIALLY AFFECTED HIS SETTLEMENT WITH THE DEBTOR".
19 - USA Patriot Act Notice.
The U.S. federal USA Patriot Act ("USA Patriot Act") provides generally for the operator of a communication host and law enforcement to be able to monitor any content, upon request of the operator. We anticipate fully complying with all our obligations, and availing ourselves of all our rights, under the USA Patriot Act.
20 - Jurisdiction And Venue.
The court of Park County Montana District Court located at: 414 E Callender St, Livingston, MT 59047, USA and the nearest U.S. District Court to Park County in the State of Montana, USA which is the US District Court for the State of Montana – Billings, MT, USA located at: James F. Battin Federal Courthouse, 2601 2nd Avenue North, Billings, MT 59101. shall be the exclusive jurisdiction and venue for all legal proceedings relating to these Terms.
21 - Controlling Law.
These Terms shall be construed under the laws of the State of Montana, USA, excluding rules regarding conflicts of law.
22 - Entirety; Waiver.
These Terms and any supplemental terms, policies, guidelines and rules that may be posted on the Website from time to time, embody the entire agreement between the parties concerning the matter dealt with herein and supersede all prior agreements or understandings as may relate to the subject matter hereof. No waiver of any of the provisions of these Terms shall be deemed to or shall constitute a waiver of any other provision hereof (whether or not similar).
23 - Assignment.
You may not assign or transfer any of your interest in or rights or obligations under these Terms without our prior written consent. We may, however, assign or transfer any of our rights or obligations under these Terms to any third party without your prior consent.
24 - Intended For Use Only In The United States.
This Website is controlled and operated by Beartooth Web Design LLC from its offices within the United States. Beartooth Web Design LLC does not represent that this Website is appropriate or available for use elsewhere; access to this Website from locations where its contents are illegal is not authorized. If you access this Website from outside the United States, you do so on your own initiative and at your own risk.
25 - Force Majeure.
We shall not be liable for damages for any delay or failure of delivery arising out of causes beyond their reasonable control and without their fault or negligence, including, but not limited to, Acts of God, acts of civil or military authority, fires, riots, wars, embargoes, Internet disruptions, hacker attacks, or communications failures.

Effective Date: June 11th, 2020